On

Saturday, July 23

, there will be an exhibition of four artists in the Main Galleries, Sculpture Garden and Carriage House. The work will be on display through

August 14

with a reception for the artists on

Saturday, July 23

from 

6:00 until 8:00 p.m.
Main Galleries
Yi Zhang
Sculpture
Click -here- for images from the exhibition.
Fabrication through collage construction is at the working center of my practice of Sculpture. The work process is based on a series of intuitive choices and actions; a making and constructing something that results in vibration of poetic mystery. My original sensation; the one I get from certain materials, leads to a series of physical actions transforming them into something new. Different substances, connected together, communicate and share their innate life producing new emotions and revealing their potential inner natures. The actions performed, the process, emanate from my emotion and reaction to the possible combination of forms. The particular emotion revealed in the end is a record of the sensations recalled from the materials and is directed by and connects with my psychological world, ultimately producing a sculpture. My body movement as a measurement of feeling is involved in the process of the making and relates dimension and proportion of the artwork back to the my body. The spontaneous process making every sculpture is a unique and unpremeditated product of my soul, which is un-reproducible.
           Yi Zhang, 2016

Sculpture Garden & Carriage House, Ground Floor
Willard Boepple
Sculpture
Click -here- for images from the exhibition.
"I'm an abstract sculptor and I want my work to speak directly without narrative or message other than that which is created by the sculpture's own form and presence. I hope for my sculpture to work via the abstract relations between its parts, like music. Abstract sculpture's privilege is to be driven purely by the visual experience of it and by that to reach through the eye into the mind and, when it is good, straight into the heart."
Willard Boepple, 2016
The sculptor Willard Boepple has exhibited widely since the early seventies. His work is in the collections of the Metropolitan Museum of New York, the Boston Museum of Fine Arts, Storm King Art Center, The National Academy, The Fitz-William and numerous other public and private collections world wide.  He is represented by Lori Bookstein Fine Art in New York and Maddox Arts in London.
He has served on the faculties of Bennington College and The Boston Museum School and has traveled extensively in Africa as a U.S. State Dept Visiting Cultural Specialist. For twenty years he was chairman of the Triangle Artists' Workshop in New York and serves on the boards of the Vermont Studio Center and the National Academy.  He lives and works in New York and Vermont and frequently in the UK where he makes prints with Kip Gresham at the Print Studio, Cambridge.
Courtesy Lori Bookstein Fine Art
Carriage House. Second and Fourth Floors
John Dugdale
Photography
Click -here- for images from the exhibition.
What language shall I borrow…
During Easter this year I heard this beloved hymn written in 1830 and thought to myself what language had I borrowed to express myself after my sudden loss of sight in 1992. As I stepped out of St. Vincent's Hospital, the overwhelming thought and feeling that I had was to record my presence on the planet and in my community using my wood, glass and brass large format camera. Losing my eyesight but not my vision lead to an inevitable turning away from commercial work and a pent-up bursting out of imagery I meant to do earlier in my career. Using the language of the late 19th c. romantic photographers, and with the help of family and friends within a matter of weeks, I had a show of cyanotypes. Since I was a child with the toy camera my mother gave me it was my instinct at eleven to create allegorical and metaphorical photographs of my sister posing as the Venus de Milo, among other things. It suited me well to be a photographer who even before the change in my sight created tableaus from the history of art, literature and music. Returning to my studio and through listening to the great american transcendentalists, it was very simple to translate their work into imagery, even if it was just a teacup for Emily Dickinson or a strongly muscled man for Walt Whitman, or a nod to Emerson's insight into what he called "the oversoul."
I chose to use the simple process called cyanotype, which creates an ethereal cobalt blue. Invented in 1842, it only needed iron salts, water, and the light of the sun. It seemed like the right choice. What I did not know was the impact that the color would have with most of the viewers who attended the show. It seemed to unleash  something in them. The response of the work was a tremendous surprise. I thought I was making these pictures for myself, my friends, and my family but they turned out to be for everyone. I then began the exhilarating process of recording everything around me, including myself, my family, my lover, and our friends, wildly documenting everything I was near, a process that is on going. The lens of the camera became my eyesight.
In retrospect, wondering about the enormous personal reaction to these photographs, even if it was just a still life from my house, it took me some time to realize the universality of the human experience. I did not know it then but translating some very powerful experiences into pictures that were about beauty, a habit from my earlier career, the stillness of these images made it easier to engage with my audience.  Again, I realized that in the perfect quietness of the images people could bring their own experience. I guess that is the secret of all artwork, but to me it was a wonderful surprise and deeply fulfilling.
Since that time I had been asked many times about my "body of work." With the first pictures I took, I began what would be one body of work added to over a lifetime. My visual experience changes everyday, and I see all that I need in my heart and in my mind to create what has turned into a pictorial autobiography. I hope you enjoy the images that were chosen for this show, it includes recent and classic cyanotypes and gold toned silver gelatin prints. They span 25 years, starting in 1992 and continuing through until this spring.
From the first day I thought of showing my work, each picture was meant to be a missile sent into the world. I use handblown glass that gives a life to the pictures when you pass by. The glass represents strength and fragility, which seems appropriate to me. The frames were milled specially, copying a 19th c. academic style that I had already owned. I try not to send them out unframed, they don't seem complete to me otherwise. The language of photography that I borrowed has helped me to feel like a complete person in no small manner. The response to my photographs was and continues to be an enormous part of my healing process.
Looking forward to meeting you.
Yours,
John Dugdale, 2016
Carriage House, Third Floor
Mark Tambella
New Paintings 2015-2016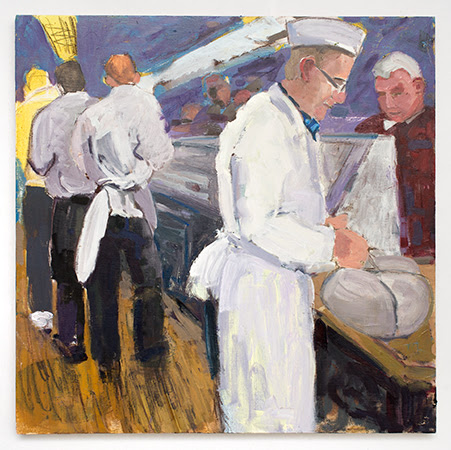 Click -here- for images from the exhibition.
"This new group of paintings are constructions of the modeled, the imagined, the stolen, and the remembered, built into scenes. The painted panels revisit an earlier figurative path and merge with techniques acquired from later expressionistic landscape, still life and portrait work. These pizza parlors, kitchens, casinos, bars, etc are not just textured environments of odd unnatural light , focused and not so focused human energy but dreamscapes, rich in metaphor, to be decoded through painting. Painting as a meditation on lines, colors, brushstrokes, and blank areas hanging together rhythmically on a simple flat surface transports us beyond the picture of it."
Mark Tambella, 2016
John Davis Gallery 362 1/2 Warren Street Hudson, New York 12534
518.828.5907
Hours:  Thursdays through Mondays, 11 – 5 pm and by appointment